Every month, our Stationery Scouter-Nicole-jumps on the blog to bring you the hottest (or in this case, spookiest) stationery finds. Enjoy!
Ghosts and goblins and witches, oh my!
It's the time of the year when both frights and delights are in the air.  When the leaves begin to fall, the days become shorter and we embrace the spookiness of tall bent trees in the night.  When we don our best costumes, indulge in edible treats and celebrate the brisk coolness of the season.
Not everyone believes in the spirit of Halloween, but those that don't still embrace the changing season by raking leaves, dressing their doorstep with pumpkins and bundling up against the new fall chill.
Why not infuse some of this spooky-yet-delightful season into your next love letter?
Feeling as though the recipient of your letter would be amused by a little touch of Halloween?  A simple pumpkin on kraft paper, some skeletal humor or spooky black ravens lined up in a row might do the trick!
Halloween Pumpkin from Embellished by Jackie  -  Gunther Knows Best from Squeeze My Hand   -  The Birds from Urban Belle Designs
If you're not sure your love letter is meant to spook and scare, infusing some autumn tones is always an alternative.  Colorful pumpkins in a pleasing pattern, intricately cut acorns or layers of warm, fall colors adorned with a gentle reminder to take time to watch the leaves change.
Pumpkin Pattern from CDesignIllustrations  -  Acorn Cards from Spark Fly Creations  -  Autumn Card Set from Terra Bellus Paper Co
And my personal favorite?
A simply message on a bright pumpkin colored card.  Embracing modern typography and the feel of the season.  This fall card from Sparrow Nest Script crafts the perfect intro for your love letter.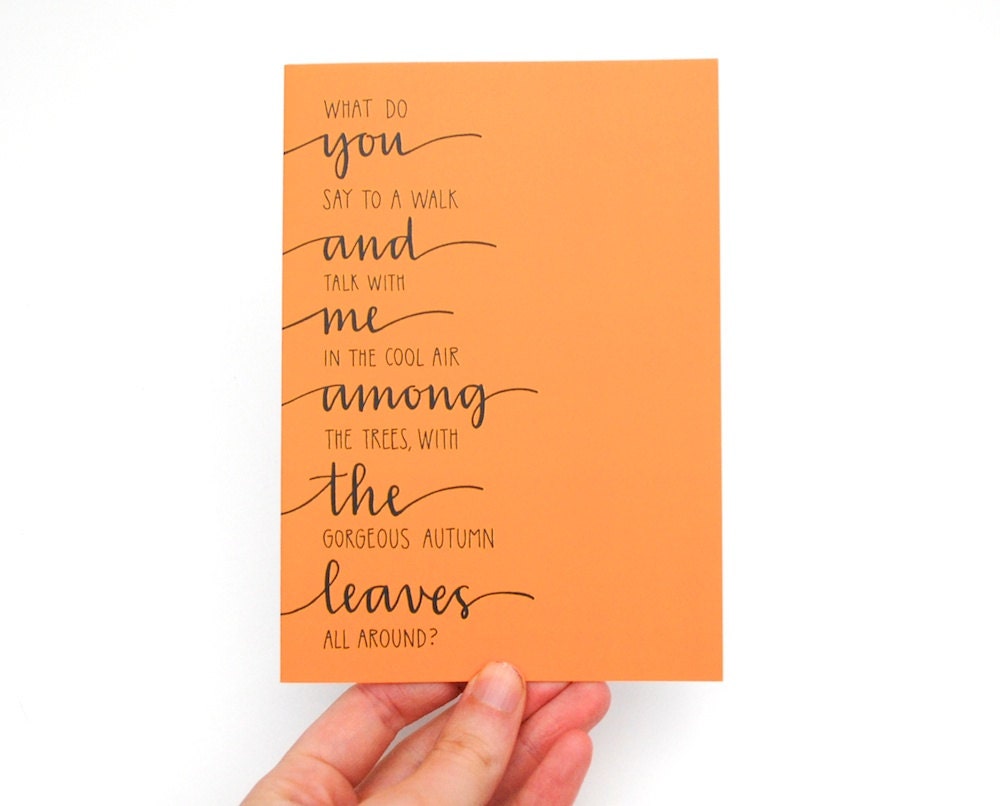 How are you celebrating the season?  Scripting in only black or orange pen?  Embracing the rich hues of autumn in your paper choices?  Do tell.